The 8th of March is officially International Women's Day, and this year's campaign theme is Choose to Challenge.
So what makes more sense than to introduce you all to a cool, Danish woman. Someone who has chosen to challenge the textile- and fashion industry as we know it. And with a purpose of fighting for a better and more responsible industry.
She executes this by focusing on upcycling textile waste to give them a new life and value.
Meet Emma Hjortdal, board member at Designers Without Borders DK, and designer at the danish brand, Wair.
About Emma:
 26 years old, lives in Copenhagen NV.

Has a degree in Design and Business – Sustainable Fashion.

Grew up in Tanzania, Denmark and Uganda.
"It is both fun and challenging to develop products from existing textiles. In my opinion, knowing which material to use for a new product, only makes the process more interesting. Throughout the process, I try to figure out which options I have - how I can recreate and manipulate the textiles so they reach a new potential.
What motivated you to join the DUG board?
I have spent a part of my childhood and youth in East Africa, where my dad worked with civil society, aid and development. This gave me an insight into the conditions in developing countries. Later in life I decided to study the environmental and social impacts of the fashion industry on a global level. This became my motivation to join DUG, and this is where I can bring knowledge and expertise to the organisation.
I met Maria (founder of DUG) at a workshop during my studies, where we focused on civil society organisations and social economic businesses.
Maria was there to talk about DUG, and I continued with an internship for the organisation. Together with a co-student, Tove Wendt, and a South African designer, Ditiro Mashigo, I created upcycled products. The end goal was to use the designs in an upcycling project with our partner in South Africa. 
When my internship ended I joined the board. Here I have spent a lot of time on a textile project that was supposed to be implemented in South Africa, but unfortunately we had to cancel it due to Covid-19.
With the current challenges related to the Covid19 pandemic and the lockdown in South Africa, I have contributed with a mask sewing guide. The guide has been used by our South African partner. This is an important project, as we have been able to provide the most vulnerable people in the area with protective masks when they stand in food lines.
You are a co-founder and designer at
Wair
– tell us more about the brand's vision?
At Wair, our focus is on recycling discarded textiles. We have a mission to get rid of all textile waste in the fashion industry, and therefore upcycling is a priority for us. In my role as a designer, I create shoes, clothes and other products from discarded textiles. We design our products from the textiles we have available and not by choosing which products we want to produce. This makes our design process different from how the conventional designer works.
As a co-founder you have a huge responsibility for the company and therefore I often choose and need to do other assignments as well. 
At Wair we have founded an organisation called Re:Wair. Our goal is to educate the young generation about recycling and to form a network for like-minded people who share our vision. In the near future I am going to put a lot of my time and skill here, as I have a desire to pass on my knowledge on this topic.
However, I don't want to underestimate the hard and challenging work it is to start up as an entrepreneur, especially in the beginning. That is why I also have a part-time job at Simple Feast. 
It is however important to me to work at a place that shares my values and opinions regarding the environment and sustainability. Which is why I am very happy to have joined their team.

"About 87 % of the overall textile consumption globally is either burned or discarded after use. And less than 1 % of our textiles worldwide are being recycled.
A lot of my school projects were about using textile waste and I think it was very exciting to create something new from the existing material
As a designer, why did you decide to focus on discarded textiles?
During my studies, I quickly realized that the fashion industry has a big environmental footprint and that there is a huge amount of textile waste being either discarded or burned.
To be more precise, about 87 % of the overall textile consumption globally is either burned or discarded after use. And less than 1 % of our textiles worldwide are being recycled.
A lot of my school projects were about using textile waste and I think it was very exciting to create something new from the existing material
During my Bachelor's project I chose to focus on the use of discarded textiles from Region Hovedstaden. They discarded a range of 1.300 tonnes of textiles yearly. Many of the textiles seemed to be in a fine condition. During my project I tried to develop a new material from the textiles. But I quickly figured out that it was strongest in the initial state in which it was produced. This is when I realized the massive amount of discarded textiles which are available to use.
At DUG we receive donations from Danish designers. These are samples and old collections. We collect the items and ship them to our partner in South Africa, where local volunteers sell it. All profit is invested in our projects and educational programs for vulnerable youth in South Africa.
By making use of the samples and old collections, we take an active stand against clothing waste. By giving it new life in South Africa the clothes get a longer lifespan. It also gets a higher value, because it supports our projects towards the vulnerable young generation in South Africa. Furthermore, our partner in South Africa has been creative enough to use the clothing they didn't sell, for example to make masks during Covid-19. 
In my opinion it makes a lot of sense to use these already produced textiles for this great purpose!
Generally speaking there are many ways to recycle materials and make use of discarded materials. In the fashion industry we often talk about recycling, upcycling and downcycling. Recycling consists of the textiles being used again either by upcycling or downcycling. When you upcycle, a new product is created, which has the same or greater value than before. This is what we do at Wair. Downcycling means the opposite. That the material is used for a product that has less value – e.g. for 'filling' in car seats.
It must create limitations? Only using existing materials in your designs. How does it impact your creative process?
It is both fun and challenging to develop products from existing textiles. In my opinion, knowing which material to use for a new product, only makes the process more interesting. Throughout the process, I try to figure out which options I have – how I can recreate and manipulate the textiles so they reach a new potential.
Our latest project is the creation of two new shoe designs made out of textiles from our textile partners, ELIS and Europcar. Right now we are waiting to receive the samples, and we are very excited! Because our shoes are not made in the same way as in a normal production, we first of all need to test the textiles to see if we can actually use them. This is why we are very excited to receive our samples soon (fingers crossed).
When we design a new product it is also crucial for us to know which materials we have available as well as the amount and the colors. This is important because we have to be able to scale up. 
We also have to think about the product's 'end of life' at the design stage. At Wair, the shoes are designed in a way that makes it possible to take them apart and recirculate the different parts. So that when the consumer no longer wants the product, it can still come to use in a different form. We also often have textile waste in our own production. We continually try to find new ways to use our own textile waste for the development of new products, so we can continue to eliminate waste. My co-designer, Linda, recently developed a bag from the pockets of a pair of work trousers, where the rest of the material has been used for our white sneakers. It is always fun to figure out what we can do with our own textile waste.
At the moment I am developing new products from white textiles which we have received from one of our textile partners, ELIS. The textiles consist of table cloths, tea towels, linens and napkins. I have had some days where I felt so uninspired because of the white textiles and eventually had to color the prototypes and my sketches in Photoshop. Just to see the opportunities and to get the creative process going again. I also have to follow the guidelines for the designs that we have formulated ourselves, since we do not want to create a product that will be discarded shortly after being bought. This is why we require that the product is essential and does not get outdated within a short period of time.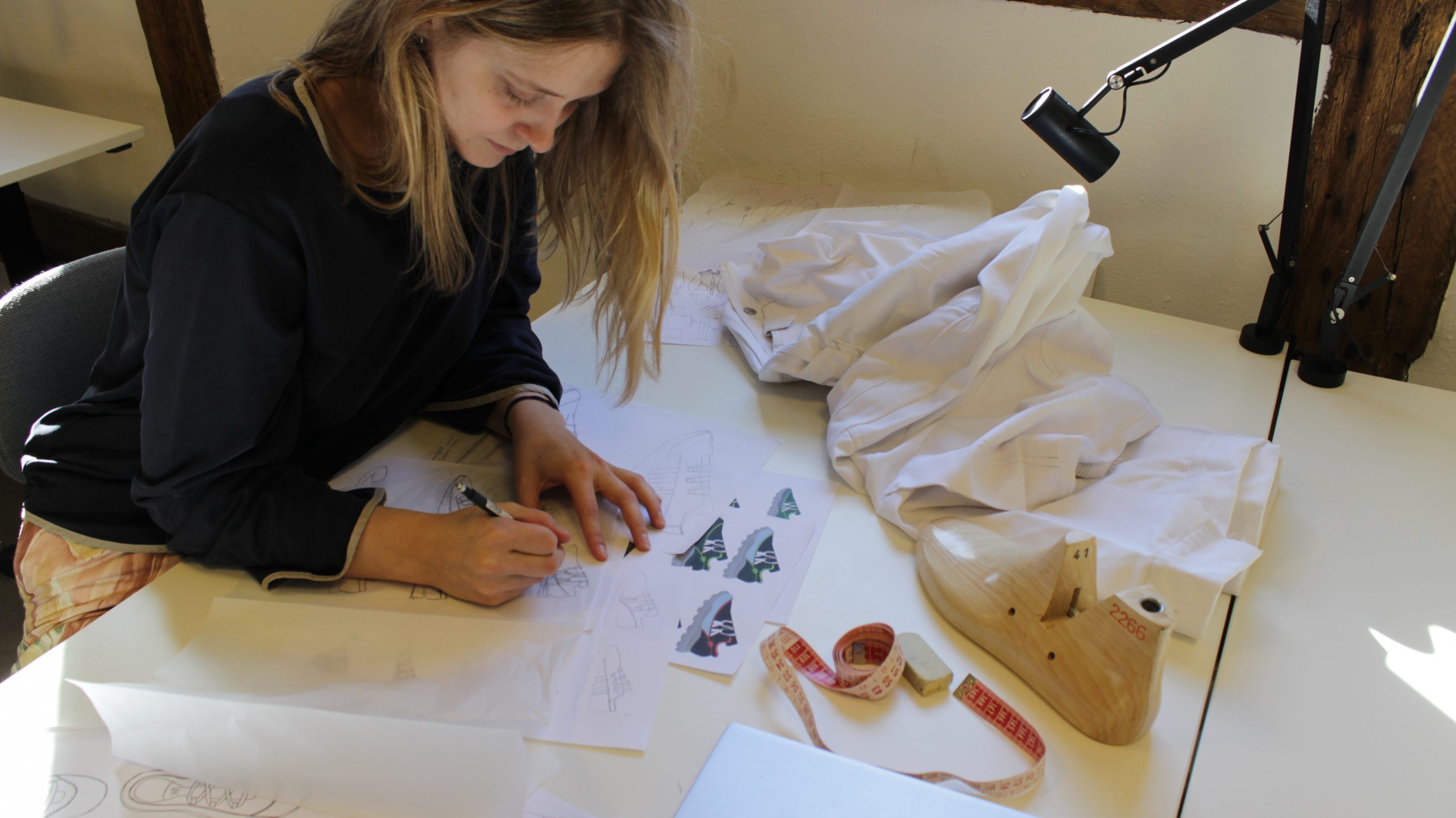 It can feel like a jungle out there – trying to navigate between the different brands. What is your advice as a designer? If we want to buy new products while still trying to choose ethical brands?

My first advice is always to start out by revisiting your own wardrobe before buying new. The second option is to buy clothes at a second hand store or to swap clothes with your friends. By swapping clothes you easily get the feeling of a 'new wardrobe' and it is free.
If you still need to buy something new then choose quality over price! It has been proven that we, as consumers, look better after clothes and shoes that we spend more money on.
I always consider the purchase for at least a week, and if I still think about buying it when the week has passed, it's often because I really want it and need it. But very often that's not the case.
But as a consumer I do understand that it is difficult to navigate between the different brands and to see through the many different certifications and fancy words. There are so many aspects of what we call 'sustainable'. For example we need to look at both pesticides, water consumption and the durability of the material. And another important aspect is social responsibility – so the rights and conditions of the factory worker.

But if we, as an example, take a closer look at water and pesticides. The use of water from the production of one cotton t-shirt is approximately 2.700 litres of water. This is how much an average Dane uses in 23 days. And this amounts for all water used. So washing dishes, flushing the toilet, washing your clothes, showering etc. That is a crazy amount of water and I doubt that many people know this. Generally we need to start creating more awareness about these issues.
But it is complicated. In the production of organic cotton we use a larger amount of water than in the production of conventional cotton. But at the same time pesticides and chemicals from conventional cotton production harm the factory worker, nature and our water.
And certifications can be misleading. For example, let's take Oeko-Tex. A lot of people think Oeko-Tex equals organic. But it only means that when you, the end consumer, buy the product, a large amount of the chemicals have been washed out. So it might be safer for you, but not necessarily for the environment or the factory worker.
As a designer I incorporate sustainability in all aspects of the process. I look at how my products affect my surroundings and how I can minimize my environmental footprint.
I use the same thought-process when I shop for clothes or shoes. Does the brand for example work with circular economy? So do they have an option to reuse the product when you no longer want it? Or do they produce only based on orders to avoid waste? There are many ways brands can integrate sustainability into their production.
Also, when I do shop what I buy has to make me happy and feel comfortable. That inevitably makes it last longer in my wardrobe.
All in all my best advice is quality over quantity. And good quality is, in my opinion, clothes that will survive a long time in your wardrobe. And I am talking years or even a lifetime! Secondly – second hand or swap clothes!
So, how does the future look like? Should we stop the production of new clothes and shoes all together?
That's a really big question which is difficult to answer. I wish I could take a peek into the future and see that the industry has changed to the better.
But yes, principally we should stop producing and use what we already have. But we also have a fundamental need to consume and express ourselves through consumption, and I doubt that will ever change.  
I think that instead of fighting consumerism, we need to spend our energy on changing how we produce and consume, and hopefully through that see positive changes.. And that counts for both designers, retailers and consumers.
And I do believe that we will see positive changes in the years to come.
The fashion industry will be forced to take responsibility in terms of ethical production and environmental footprint. For example we have a new law in place that stipulates that from January 2022 all textiles must be sorted separately in Denmark. This is applicable for the rest of Europe by 2025.
Also, I do believe that we will see more alternative ways to consume, for example through leasing of clothes or swap markets.
Finally, I think we will see more players in the industry who continue the path of coming up with new innovative materials and products, where circularity is part of the process. 
Of course no one can predict the future, but I deeply hope that the fashion industry and fast fashion brands will acknowledge the massive responsibility that we have.
I will definitely continue to design sustainable products and stay aware and informed.
Finally, do you have any good advice? Or ideas for relevant literature or podcasts?
First of all, we are always looking for new members in DUG. It only costs 150 DKK yearly to be a member and help support our work. To me the work we do is really important because I can see that it actually has an impact. You can read more and sign up here.
Besides from that I can only encourage people to become a part of a civil society organisation and to volunteer somewhere. It gives me so much energy to see that what I do has a positive impact and a purpose!
In Wair we are soon launching new products, both sneakers and clothes. So keep an eye out and follow us on social media @sustainablewair or visit our website.
If you are looking for more information about the fashion industry and the issues surrounding it, I can recommend you to listen to the podcast "Bedre Mode" (it's in Danish). Here, Johanne Stenstrup talks about 'clothing culture' and how a healthy culture can lead to a more sustainable wardrobe. I can also recommend you to read the book "Klæd dig Bedre', which she wrote in collaboration with wardrobe researcher Else Skjold.
If you like to nerd and dig a bit deeper I can recommend 'Vores tøj – Verdens Ressourcer' (it's Danish) by Tekstilrevolutionen.
There are definitely a whole lot more out there, but this is something that I personally spend a lot of hours listening to and reading during lockdown.
Finally – I just want to add: we only have one planet – let's take care of it and be aware of our environmental footprint!