"The work that we do and the education that we provide for the youth makes a big difference!"

D
We have strong driving forces working with us in South Africa. Something that we are very grateful for at "Designers without Borders, Denmark".
D
Two prominent youth facilitators who deserve the spotlight for their incredible dedication are Kyle Vernon Hendricks and Carin Bosman.
Both are from our partner organisation "Designers without Borders, South Africa" (DWB SA).


D


We are always excited to follow their work which is wired through our organisation here in Denmark.
Kyle
, a vibrant and inspiring persona from Grabouw in South Africa, was already driven and engaged in societal issues before joining DWB SA.
Ahead of joining our partner-organisation he had started his own nonprofit organisation called "The Woke Initiative".
With the initiative he hopes to raise mental health awareness and to set focus on the need to battle the stigma of depression, something he has experienced himself.

D


The focus, he says, is not necessarily on the lack of support for individuals dealing with depression but to change the way we look at this isolating and self harming state of mind. Also in terms of how it is portrayed in the public and media today.
It is a growing problem not just amongst youth and students but also in our society as a whole and the world that we live in. 
Kyle uses his experience from the Woke Initiative in his work for DWB SA. It helps him to show the youth the power of speaking up, being brave and proud of who you are.
As a person he always knew that he wanted to work with youth and community development. Possibly becoming a teacher or entering a leading position of some sort in the future.
So, while taking a break from college he decided to venture on new challenges within that field. Shortly after, in 2018, he was recruited by Alfra, co-founder of DWB SA. And in a very short time he has taken on an important role in the organisation as a youth facilitator and mentor.
With his ability to understand the youth society and culture today he feels that he can easily relate to and understand the young women and men in the program.
It has helped him to become a key player alongside Alfra in terms of shaping and directing the "Youth Voices and Game Changer Program".
"There are many guidelines to follow on (…) paper. How to go about dealing with one issue or another. But I wanted to take on real issues that I see in my daily life, in my community, in Grabouw and in South Africa."
Through his work for DWB SA he has seen young women and men that want more out of life, but don't necessarily have the right tools or support to change their perspectives and future. He wants to help these young people find their own voice and inspire them by showing them that change is possible.
"We want to change the narrative of the rural girl from South Africa. Seeing poverty and hardship is not the same as experiencing it. We want to give the power to the youth in creating their own narrative."
Kyle hopes that the program can continue to provide a platform and place of understanding and support for children and youth from these neighbourhoods.
That the "Youth Voices and Game Changer Program"  will always be a place of openness.
A place that encourages healthy discussions tackling social stigmas and local and global issues. 
"I get excited to have such an influence and responsibility in the organisation, because I see that the work we do and the education that we provide makes a big difference for the young individuals. The effort and spirit that the youth put out motivates me to continue my work with DWB SA".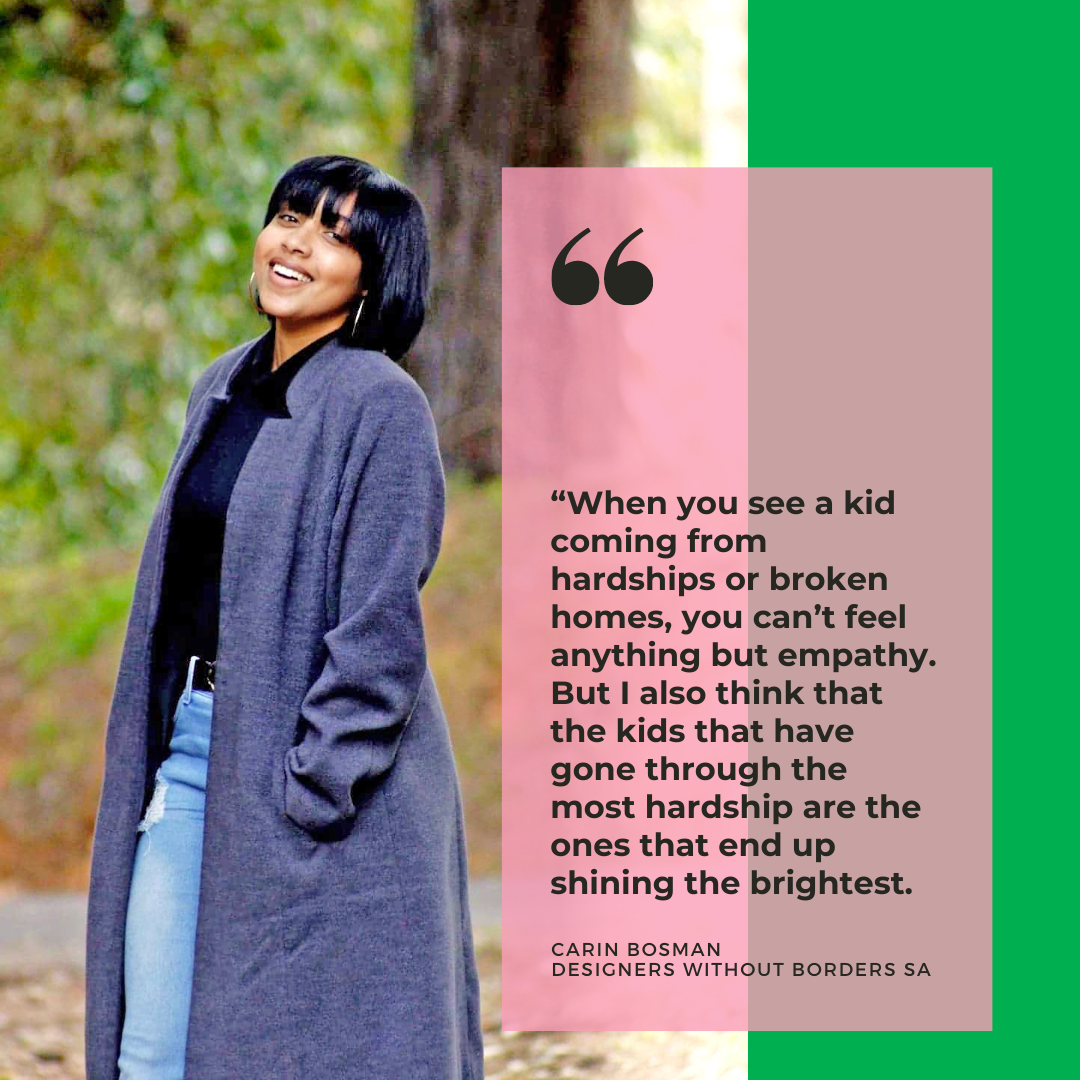 Carin
, also from Grabouw, started working with DWB SA in August 2020 and has quickly found her place within the organisation.
She had just finished her studies in Business Management when she heard about the organisation.
The thought of engaging in community work and the idea of becoming a social worker is something that has always been at the back of her mind. So, when the opportunity to work as a facilitator at DWB SA came up – she didn't think twice.
"There's so much injustice in the world, especially for kids growing up in rural areas like ours. And I felt that someone had to do something about it, and I wanted to be that someone."
She didn't know back then how she could incorporate her business education in her role at DWB SA. But today she can see that her abilities to manage and to put ideas into concrete actions are very useful. It has made her confident going forward and she is excited for what is to come. Especially to be a part of something where the youth are taught to go out and discover and create change themselves.
She says it's almost like faith leading her into this unexpected journey, something she is very grateful for.
Her experience working with DWB SA has confirmed her ambitions to continue working with children and youth in hardship. She is positively inspired and proud of how bright and strong each participant in the "Youth Voice and Game Changer Program" is.
"They do have different agendas and reasons to participate in it, but they all have the same will and passion to engage in the program. Each individual has different personalities, some want to be influencers, an activist speaking his or her truth. Some write poems to reflect on their lives, society and feelings."
With the education, tools and ideas that they receive through the program, she believes that they will be able to carry this newfound knowledge with them for the rest of their lives.
"When you see a kid coming from hardships or broken homes, you can't feel anything but empathy. But I also think that the kids that have gone through the most hardship are the ones that end up shining the brightest. It melts your heart and as a facilitator you want to help them, encourage them and empower them right away!"
Kyle
and
Carin
both work as Youth Facilitators in the program "South African Youth Leaders".
A partnership program funded by CISU (Civil society in Development).
You can read more about it
here
.